Set in one of the most magnificent settings in the world, Hotel La Mariposa stands majestically atop the highest point in Manuel Antonio area and is best known for its award-winning 360 degree view overlooking the blue waters of the Pacific Ocean, the city of Quepos, and Manuel Antonio National Park. Nature and charm flawlessly combine with 62 well-appointed rooms in a Spanish-Mediterranean architectural design and tropical gardens with walkways and trails meticulously landscaped to reflect the natural beauty of Costa Rica's abundant plant and wildlife.
Experience the stunning magic of the legendary Manuel Antonio sunsets while sipping a tropical cocktail at our "Sunset Bar and Lounge", while dining in our world-class international restaurant "Le Papillon"
With over 43 years' experience, our personalized service and unforgettable views have made La Mariposa a top choice for the most discriminating travellers, who relish both its intimacy and magnificence.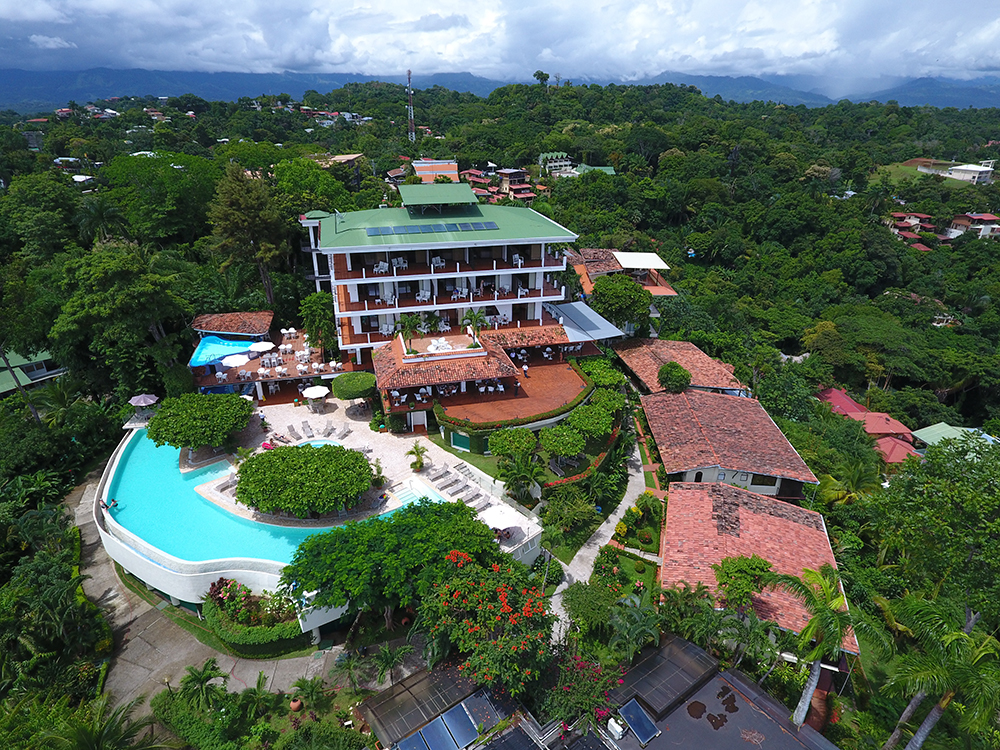 Internationally acclaimed as the area's first boutique accommodation option, La Mariposa boasts the best view of the coastline. 62-plus pristine rooms of various sizes are decently decorated with hand-carved furniture – big spenders should check out the Honeymoon Suite, which has a Jacuzzi on the terrace facing the sea. La Mariposa hotel was listed in the book "1000 Places to See before You Die", principally for the immaculate gardens and world-class views that hug every corner of the property.
We are located 1 mile away from the Manuel Antonio Beach and National Park (the hotel provides a free shuttle service to/from the beach four times per day). Our property features panoramic views of the ocean and Manuel Antonio National Park, Spanish-Mediterranean design and a terrace with the most stunning infinity swimming pool in all over Costa Rica.
"At La Mariposa Hotel, we are very conscious about of the real danger of extinction suffered by our Titi monkey in the area of Manuel Antonio and applaud the efforts of The Titi Conservation Alliance to provide them an opportunity to protect and enhance their natural environment.
As a leading company, we love having the opportunity to put a bit to help this great initiative with the thought that in the future our children will continue to enjoy these beautiful and unique creatures, too."
For More Information About La Mariposa Hotel: