TCA on TV!
The TCA and its projects were featured in a documentary series about endangered species shown in Costa Rica by Channel 7 during the first week of January. Both Russ Jensen and Juan Pablo Aguero were interviewed for the piece, which you may view on our Facebook page. We look forward to collaborating again in the future with the network, to gain further exposure for our members and their support of our conservation projects.
TREE PLANTING AND EDUCATION PROGRAMS
The summer months are busy for the tourism industry here in our area, and the Alliance is busy as well as we begin to prepare for the upcoming busy season of our 2 major projects sponsored by our members: Habitat Reforestation and Environmental Education. We are very fortunate to have located additional land for reforestation this year.
Our forestry engineer, Ing Juan Pablo Aguero and his field manager Wilberth Chacon have been working hard to maintain our tree nursery during the hot dry summer. We have also begun visiting schools to present our Environmental Education workshops to the 4th and 5th graders throughout the Naranjo River Biological Corridor, as well as coordinate the dates for the upcoming tree planting days with the kids. Of course we are also reserving dates for our amazing member planting days. If you are interested in participating in tree planting this year please contact Russ Jensen at director@monotiti.org.
TCA has initiated a new alliance this year with ASOMACAO, the Association for the Protection of the ARA MACAO or Scarlet Macaw. We are excited to be working with Ana Maria Torres, director of the association and lead veterinarian for the reintroduction project at Gaia Hotel and Resort, also a long time member of TCA.
We are also happy to report that the Blue Flag Committee for Playa Espadilla Norte, the first beach at Manuel Antonio, was awarded the Blue Flag for its efforts to improve the beach in 2016. TCA was a member of the committee last year and will continue to support the program this year as well.
We would like to remind our members that we would be happy to provide employee training workshops on sustainability issues, free of charge. We can also provide consulting and advice on a wide range of topics such as CST certification, Blue Flag, carbon neutrality and reforestation programs.
Over the past several months, we have developed some new updated publicity materials for our members, including attractive signs for front desk/reception areas, info flyers for the public and "Please Don't feed the Monkeys" signs. If you wish to see and order these materials please contact us at director @ monotiti.org.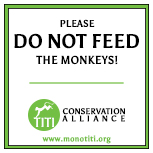 For your convenience, TCA has opened an additional bank account for member deposits at the Banco Nacional de Costa Rica, besides our Banco Promerica Account. The info for both accounts may be found below.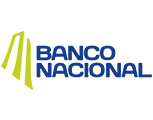 THANK YOU FOR YOUR CONTINUED SUPPORT!