Scientific Name: Hamelia patens
Botanical Family: Rubiaceae
Common Names: Coralillo – Amelia – Canelilla – Clavillo – Zorrillo – Coloradilo – Zorrillo Real
This pretty plant species grows as a bush or small tree from 2 to 5 meters in height with a dense and rounded leafy top. Its leaves are simple, and opposite. The small flowers have an attractive red-orange color and are formed in groups. The fruits are spherical and when mature black in color and juicy.
The Coralillo is found distributed from Mexico to Bolivia and in our country is found all along the Pacific coast at altitudes up to 1700 meters above sea level. Of course we find it throughout the Naranjo River Biological Corridor here in Quepos Maneul Antonio.
This is an excellent native plant to be used in landscaping of home gardens and public parks, primarily because it is full of fruits and flowers year round. It is an excellent source of food for a wide variety of butterflies, insects and small mammals, all of which will fill up the surroundings with vibrant life!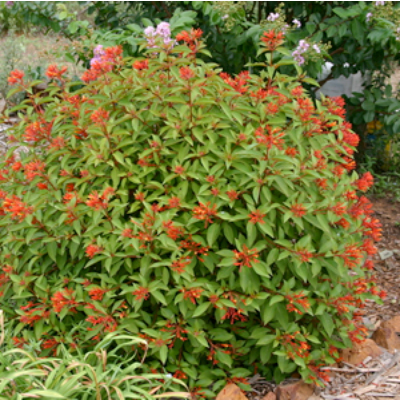 This plant is also used for medicinal purposes to treat a variety of sicknesses such as dysentery, kidney stones and skin irritations.